Free Shipping On Orders Over £40.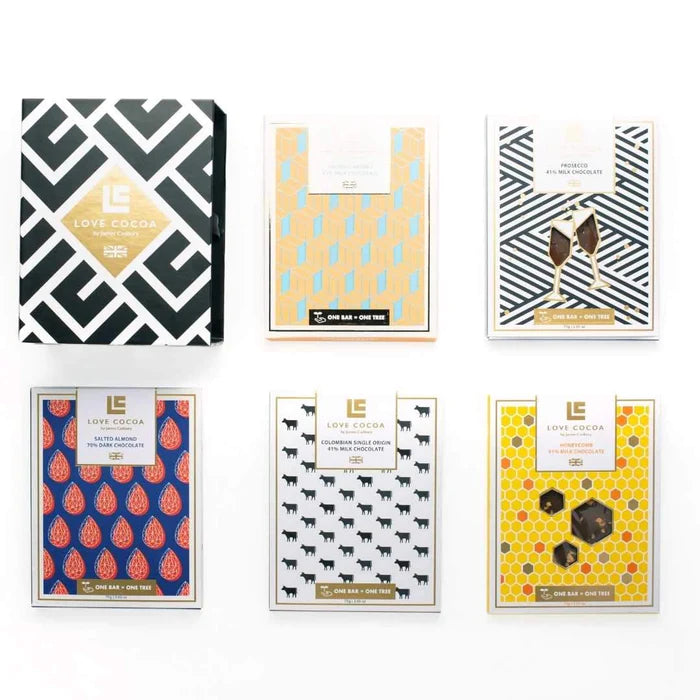 WHY CHOOSE US?
+1,605,037 TREES PLANTED
ABOUT CHOCOLATE SELECTION BOXES
Indulge in the exquisite world of chocolate with our guide to the finest chocolate selection boxes. Whether you're treating yourself or looking for the perfect gift, these decadent delicacies are sure to delight any chocoholic. From how to choose the perfect box, to storing and enjoying your chocolates, we've got you covered.
Chocolate selection boxes are delightful assortments of various chocolate flavours and textures, neatly packed in attractive boxes. These delectable treats are commonly found in shops specialising in gourmet chocolates. Whether you prefer dark, milk, or white chocolate, there is a selection box to meet your taste preferences and cravings. These boxes make for perfect gifts or personal indulgences, offering a tantalising array of flavours to savour and enjoy.
Chocolate selection boxes have a rich history dating back to the 19th century. They became synonymous with indulgence and luxury, making them an ideal gift for special occasions. These curated assortments offer chocolate lovers a range of flavours and fillings, providing a delightful sensory experience. With their versatility and appeal as gifts, they have gained immense popularity worldwide. Each piece represents dedication and skill from skilled chocolatiers who take pride in crafting unforgettable taste experiences.
Keep your chocolate selection boxes away from heat and light to maintain their quality and prevent melting. Store them in a cool, dry place to ensure they stay fresh and retain their flavour. Additionally, avoid exposing the chocolates to strong odours as they can absorb and alter the taste.
A chocolate selection box is a curated assortment of different types of chocolates, typically presented in an attractive box or packaging. The purpose behind these boxes is to provide chocolate lovers with a range of flavours and fillings to satisfy their cravings. Whether it's milk chocolate truffles or dark chocolate caramels, these carefully selected treats aim to offer a delightful sensory experience.
Chocolate selection boxes have gained immense popularity worldwide due to their versatility and appeal as gifts. They are not only coveted during festive seasons but also make for excellent presents on birthdays, anniversaries, or any occasion that calls for celebration. Moreover, the significance lies in the artistry involved in creating these selections; each piece represents dedication and skill from skilled chocolatiers who take pride in crafting unforgettable taste experiences.
Consider the recipient's preferences when choosing a chocolate selection box. Take into account their flavour preferences, dietary restrictions, and any specific requests they may have.
When selecting a chocolate selection box, it is crucial to check the quality of the chocolates and examine the ingredients used. Opt for high-quality single origin chocolates made with premium ingredients which are high on cocoa and low in sugar to ensure an indulgent experience.
Pairing chocolate selection boxes with wine or champagne can create a luxurious and indulgent experience. The rich flavours of the chocolates complement the notes in the beverages, enhancing both tastes for a truly decadent treat. For an unforgettable evening, select a variety of chocolates to pair with different types of wine or champagne, allowing your taste buds to explore new dimensions of flavour.
Immerse yourself in the world of decadent delicacies by hosting a memorable chocolate tasting event in the comfort of your own home. Follow these steps to ensure an extraordinary experience for you and your guests:
Prepare a visually appealing display by arranging different types of chocolates on elegant serving platters.
Create personalised scorecards for participants to rate each chocolate based on appearance, aroma, texture, and taste.
Engage everyone in discussions about their favourite flavours and share interesting facts about cacao cultivation and production techniques.
Indulge your sweet tooth and take your baking skills to the next level with the enchanting world of chocolate selection boxes. These delectable assortments offer a treasure trove of flavours and textures, allowing you to create truly extraordinary desserts. From delightful cakes infused with velvety dark chocolates to heavenly truffles adorned with smooth milk varieties, these exquisite confections are sure to impress even the most discerning palates.
No matter who you're buying for, a luxury chocolate box makes a winning gift every time. At Love Cocoa, you'll find an array of luxury chocolate hampers,letterbox gifts and petite chocolate boxes to suit every taste. From classic milk chocolate to heavenly vegan options and boozy tipples, there's a little something for everyone. Find a gift for a friend or treat yourself to a delicious box of chocolate truffles. Peruse our collection of chocolate gift boxes, handmade in the UK.
Whether you're looking for a small token of affection or a generous gesture, a box of luxury chocolates makes a thoughtful gift that any recipient is sure to appreciate. From mini selection boxes to collections brimming with our signature truffles, bars, and nibbles, you'll find the perfect offering in the Love Cocoa chocolate boxes range.
Make your loved one's birthday extra special with a delicious assortment of their favourite chocolate flavours or surprise them with something new. Perhaps you're looking for a present to show a partner just how much you care — an irresistible box of signature truffles will send a thoughtful message. Want to send a treat to a friend far away? Our letterbox gifts make an ideal surprise, and we can send them directly to your giftee with our handy gifts by post service.
Elegantly presented in vibrant packaging, a Love Cocoa chocolate gift box is a delight to unwrap. Bold colours and fun patterns make every box an impressive sight. Beneath the wrapping, you'll find artisan chocolates, handmade in the UK. Crafted from premium single-origin chocolate, each bite is a treat for all the senses. 
You can search by category, too. So browse our range of specially-curated gift boxes, whether you're looking to say 'Thank You', wish a very 'Happy Birthday,' or simply send a treat 'With Love.' 
For a gift that's unique, delicious, and thoughtful, take a look at our collection of chocolate boxes. Choose something small and yummy or go all out with a deluxe chocolate hamper that will keep your loved one's cupboards stocked up with a host of premium chocolate treats. With white, milk, and dark options, as well as vegan nibbles, boozy liqueurs, and romantic hampers, there's something for every occasion.