Founder
James Cadbury
"Inspired by my great-great-great grandfather, John Cadbury, I founded Love Cocoa with the purpose of producing delicious, high-quality chocolate in an ethical and sustainable way. We're on a mission to drive positive change within the chocolate industry, creating chocolate that is loved by people and planet alike."
SUSTAINABLE CHOCOLATE
CLIMATE FRIENDLY CHOCOLATE
Our mission is to make chocolate consumption more sustainable. The mainstream chocolate industry is shrinking our rainforests, damaging the environment and contributing to global warming on an alarming scale. We want to break the pattern. We protect nature by avoiding plastic and palm oil, and we're combatting the deforestation and environmental damage caused by unsustainable cocoa farming by planting trees, pledging 1% of our annual sales to the planet and by paving the way for change in the chocolate industry.
CHOCOLATE RUNS IN THE FAMILY
A PROUD CADBURY HISTORY
The inspiration behind Love Cocoa comes from founder James Cadbury's, great-great-great grandfather John Cadbury, who set up Cadbury chocolate nearly 200 years ago.
A philanthropist and anti-slavery campaigner himself, John Cadbury built his company on great ethical grounds, looking after its workforce and improving civil rights, and it is these same ethical values that remain at the heart of our company today.
We're making chocolate history. Again.
James Cadbury is born.
His family are no longer involved in the chocolate industry, but the Cadbury family tradition of philanthropy and entrepreneurship continues.
Following a hostile and controversial takeover of Cadbury by Mondelez in 2010, the Cadbury company lost its status as a British brand and four hundred jobs were lost.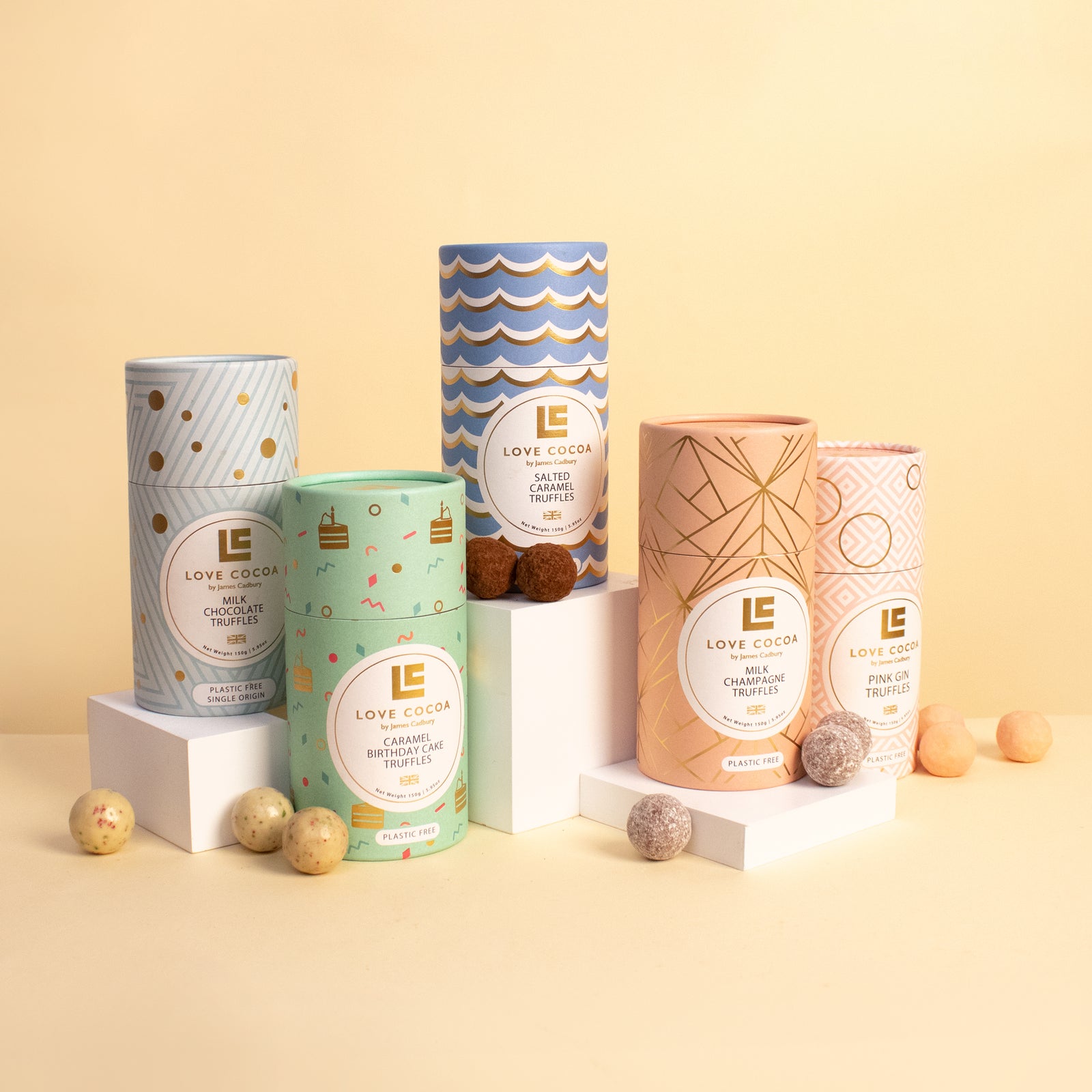 Love Cocoa is launched
Built upon the same ethical principles as the original Cadbury family once was and with a sustainable mission at its core. With a small range of chocolate bars, James starts selling chocolate from a stall on Old Street.
Love Cocoa gains first listing at fortnum & mason
100 years after Fortnum & Mason first stocked the original Cadbury chocolate products.
Love Cocoa launches its one bar = one tree project
We planted over 500,000 trees in the first year of our tree planting project in an effort to combat the deforestation caused by the unsustainable cocoa farming practices that many mainstream chocolate companies rely on.
Love Cocoa continues on its sustainable journey
Staying true to our original mission to drive positive change, we have planted over 1.6million trees to date, pledged 1% of our annual sales to environmental causes and are officially B Corp certified. Our chocolate is available in 17 different countries and in countless retailers including John Lewis, Oliver Bonas, Anthropologie, Liberty's and Fenwick. 
DISCOVER LOVE COCOA'S SUSTAINABLE CHOCOLATE NOW
LUXURY CHOCOLATE, BUT BETTER.